Forge Motorsport Renault Megane RS 280/300 Induction Kit – FMINDK31
The Renault Megane RS 280/300 intake is the result of widespread design trials through dyno testing and flow analysis. It was developed to achieve three main objectives:
Maintain low inlet temperatures in comparison to other aftermarket induction kits
Improved air flow
Looks aesthetically pleasing and enhances the look of your engine bay
Our first criteria has been met by enclosing the PRORAM filter with our CAD designed sheet aluminum airbox. The OE location for the airbox is not ideal as it is mounted at the back of the engine bay which inherently gets very warm and so it was crucial in our design to make sure we shielded as much of the hot side as possible. It was imperative to incorporate both OE air ducts in our design to allow as much cold air flow to the filter as possible; all these considerations are in order to keep IAT's as low as possible.
The second objective was met by trialing and testing of different air filters and we have even gone to the extent of using two different independent dynos to make sure the data collated was accurate. Results showed that we achieved the best gains with the PRORam performance filter.
Unlike other aftermarket intakes our kit utilises a huge velocity stack that in turn houses the filter which has been designed with a high quality, high flow, synthetic nanofiber filtration media which is pleated to maximize surface area and in turn increase the turbos air flow.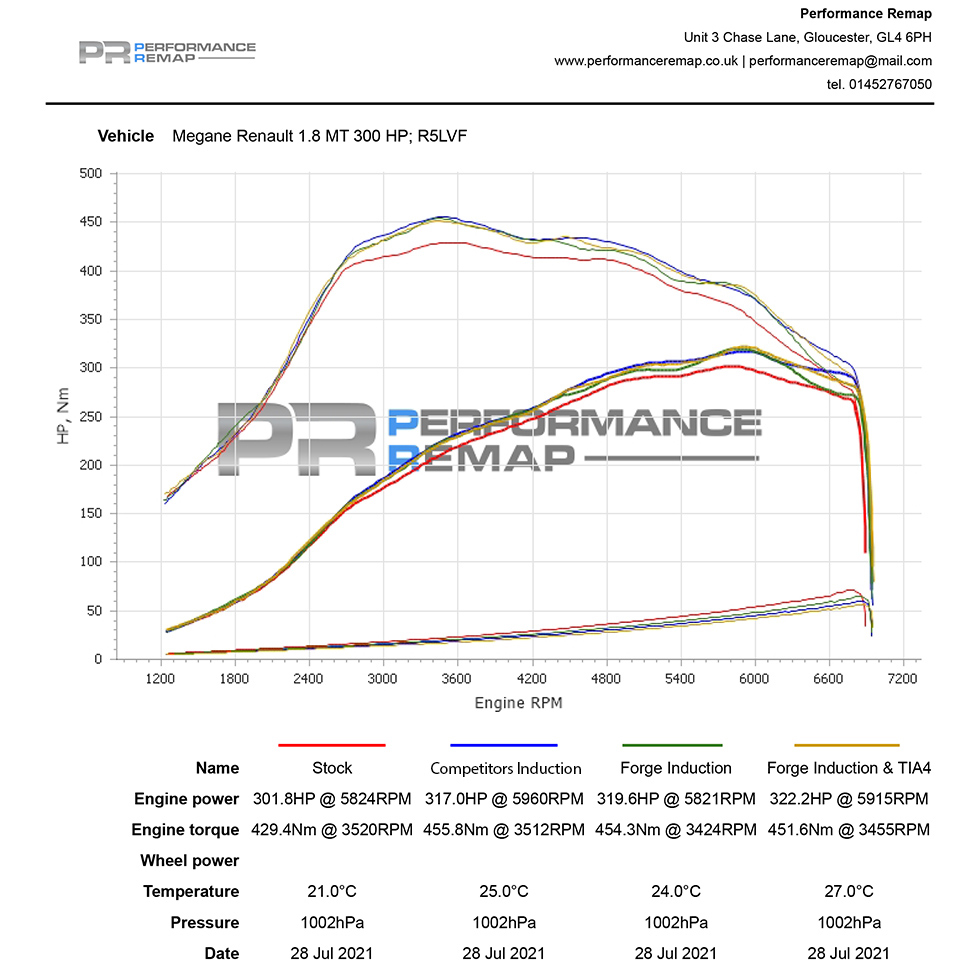 When you look at the data, the gains are there to been seen. The Forge Motorsport intake system makes +15bhp improvement even though the ambient temperature in the dyno cell has risen +3°C. The biggest gain we achieved was with the combination of both FMINDK31 & FMTIA4. This test was conducted at the hottest period of the day, however it made an outstanding +20bhp along with higher torque figures lower in the rev range, thus improving throttle response.
We also took the liberty to test a rival intake from the marketplace to see how that compared, this also worked well and demonstrated further, the need of free-flowing filtration on this vehicle.
The vehicle used for testing was a Renault Megane 280 cup with Stage one K-tec software and performance exhaust and sports cat.
Testing was completed on Litchfields Maha dyno, manufactured by the same people who currently supply BMW M sport and Mercedes Benz for all their engine calibration and Dyno testing. We also used performance remap in Gloucester with their VTEC 4 wheel-drive dynamometer. This was to ensure all our data has been achieved with results as accurate as possible by conducting all tests on two independent rolling roads.
Finally, the aesthetical challenge to enhance an engine bay which we felt is bland and a bit messy. Obviously, function over form is our number one priority, however we have tried to produce something which is quite stealthy and classy, but is also purposeful. Finished in our black textured powder coating gives the air box an air of OE quality. The cold side of the air box has been left open to aid breathing and show off the large PRORam filter. When taking this product out of the box for the first time you will get to see and feel the quality of this product. Components like the expertly machined MAF boss and the precision laser cut brackets showcase our manufacturing expertise and reassure the enthusiasts the quality is second to none.
As a by-product of all the above not only will you notice the increased performance but a slight change in your engine acoustics can also be heard. As with all Forge Motorsport products we offer a no quibble lifetime guarantee on all parts of this kit excluding the filter.
A commonly asked question is will this fit a competitor's & OE turbo inlet hose intake? The answer is yes it will fit other manufacturers inlet hoses and fits to the original Renault inlet hose. 
MAF Boss Manufactured from 6082 aerospace grade aluminium.
Black anodised & powder coating for ultimate protection and durability.
PRORAM performance air filter which has been designed with a high quality, high flow, synthetic nanofiber filtration media which is pleated to maximize surface area and in turn increase air flow.
No engine check lights (EML)
Increased air flow
The Forge silicone hoses in this kit have been designed to include an expensive inner liner of modified silicone known as Fluorosilicone.
This means the hoses are suitable to be used with either modern long-life coolants, Organic Acid Technology coolants (O.A.T.) or air containing oil mist.
The construction of the hoses has been engineered to exceed that of the OEM fitments, and will enhance any engine bay both technically and aesthetically
The use of a Fluorosilicone liner ensures that Forge silicone hoses are the clear market leader.
Lifetime warranty