Better Throttle Response Instantly…
Improve your vehicles throttle response with the plug and play DTUK® Pedal Box.
Diesel Tuning UK would like to introduce the Pedal Box to the UK market A simple yet effective throttle response modification designed to improve your driving experience. Fitting between the accelerator pedal and the ECU (the cars brain), on modern 'drive-by-wire' vehicles, the Pedal Box maximises the signal to give the smoothest and most effective response. Suited to both diesel and petrol vehicles the Pedal Box makes the vehicle more driveable in many ways…
HIGHLIGHTS OF THE PEDALBOX
4 programs to optimize the accelerator pedal characteristic
More than 20 different settings available
Incl. memory function, saves the last selected setting
PerfecTune feature for individual custom tuning of your vehicle
High-quality design with soft-touch feel
Even more precise with the latest DSP technology
HOW DOES THE PEDALBOX WORK?
The PedalBox improves the standard response times of the manufacturer's accelerator pedal. There is an immediate response from the engine with a more sporty feel and no more lag.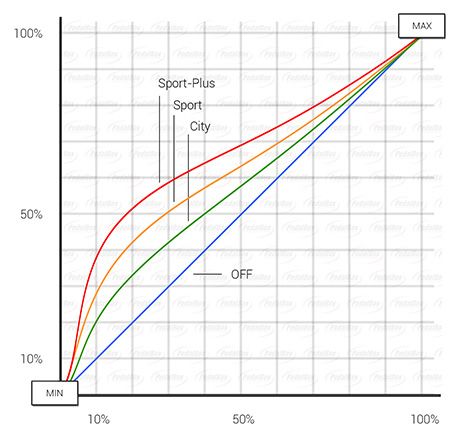 MORE FUN WITH THE PERFECT SETTING FOR YOU
The following curves illustrate the speed at which the vehicle reacts to throttle input. It's not about engine power but rather the time it takes for the engine to realise that power!
DYNAMITE DOES COME IN SMALL PACKAGES
Significant improvements can be felt even in the 'City' (green) mode. The 'Sport' (orange) and 'Sport Plus' (red) modes offer even more of an improvement than the 'City' mode, and all selectable by the driver.
The blue line indicates the standard responsiveness of the throttle from the manufacturer and can also be simulated by turning the PedalBox to its 'OFF' mode.